THE YORK COUNTRY CLUB
York, Nebraska
Course Map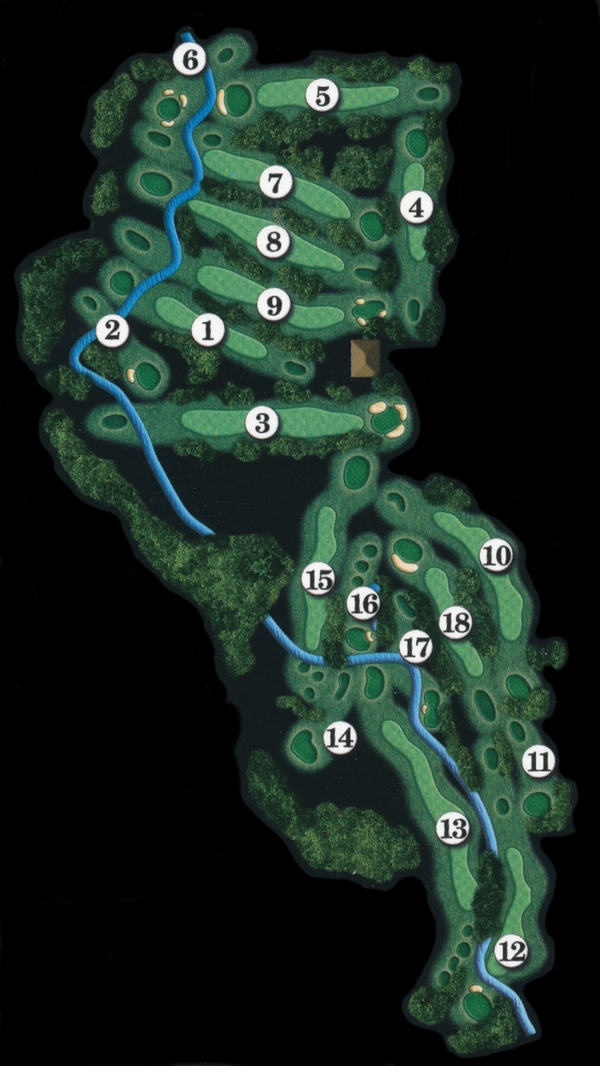 No. 1 (3 Handicap) is a 403/384 yard Par 4, easily reachable in 2 if your keep your drive in the fairway.
No. 2 (15) is a 211/189 yard Par 3 with trouble on either side and a sloped green. Straight off the tee is a must.
No. 3 (5) is a 458/428 yard Par 5 with OB on the right. Straight up the hill to a well guarded green.
No. 4 (11) is a 210/190 yard Par 3. OB right and trouble left make this a challenge.
No. 5 (13) is a 312/292 yard Par 4. Easily reachable but a large bunker & the creek guard the back of the green.
No. 6 (17) is a 165/155 yard Par 3. No trouble, but the green is well guarded.
No. 7 (9) is a 409/385 yard Par 4. It plays uphill all the way and the right to left sloping green will test any putter.
No. 8 (1) is a 415/389 yard Par 4. The downhill fairway will make your 2nd shot tough without a 300 yard drive.
No. 9 (7) is a 486/468 yard Par 5 with a dog leg left at the end and a well guarded green. Plays up hill all the way.
No. 10 (10) is a 379/369 yard par 4, dog leg right, trouble right, and a left to right sloping green. 4 is always a good score.
No. 11 (14) is a 185/153 yard Par 3 with OB left. Birdie is within reach with a good tee shot.
No. 12 (4) is a 518/497 yard Par 5. The creek can reek havoc and the 2 tiered green is well protected. Fun but challenging.
No. 13 (12) is a 560/500 yard Par 5. OB left, creek on the right will make this dog leg left hole a challenge. Fairway is a must.
No. 14 (16) is a 167/156 yard Par 3. No bunkers make par routine here.
No. 15 (8) is a 342/326 yard Par 4. OB left and trouble right. It plays uphill all the way. Reading this green can be tricky.
No. 16 (18) is a 165/148 yard Par 3. Very scenic with a pond on the left but easily parable with a good tee shot.
No. 17 (2) is a 272/269 yard Par 4. 3 options off the tee, trouble right and left, and the creek can ruin a good round in a hurry.
No. 18 (6) is a 403/359 yard Par 4. Uphill, narrow fairway, dog leg left, trees right and left to a green that slopes away from you. What else could you ask for?
Men's Par: 70
Women's Par: 74


Total Yardage from Blue Tees: 6,070 yards
Total Yardage from White Tees: 5,654 yards
Total Yardage from Women's Tees: 5,030 yards